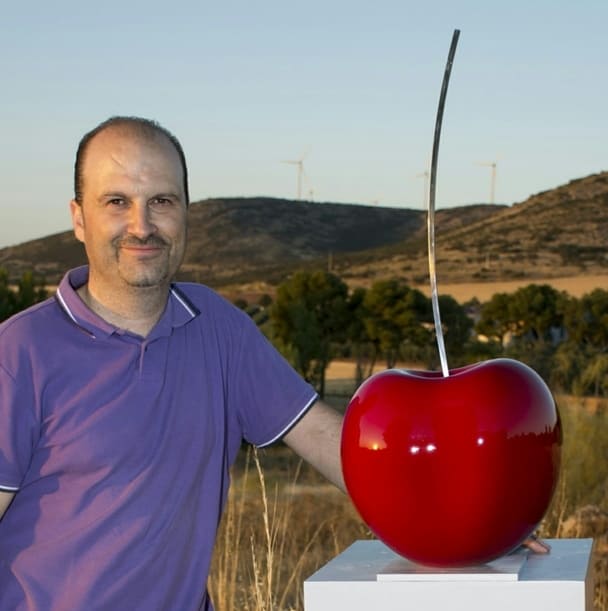 Sergio Alonso Moro is a sculptor from Ciudad Rodrigo (Salamanca), based in Valdepeñas (Ciudad Real). Self-taught, he began his artistic work in the world of sculpture at the age of 17. His roots led him to create his first works in stone from Villamayor (Salamanca), representing elements of the popular culture Charra.
When he moved to Valdepeñas he began to work and experiment with all kinds of materials, inspired by masters of sculpture such as Henry Moore, Auguste Rodin and Baltasar Lobo. Most of his works are abstractions of the female figure, where the rounded lines and the play of volumes stand out, giving him great freedom when modelling. His creations are based on sensitivity and simplicity.
For this artist, sculpture is his way of communicating with the world. Letters and symbols transformed into tools. Words that become forms, volumes, expressions and movements, that give way to spaces, which also transmit and communicate the essence of each work. His language: art. The final result: his work.
Monument to the Settlers in Llanos del Caudillo (Ciudad Real)
Monument to the Victims of Terrorism in Valdepeñas (Ciudad Real)
Monument to Blood Donors in Valdepeñas (Ciudad Real)
Inauguration of the monumental sculpture "Serenity" in Valdepeñas
Sculpture selected at the "79 Valdepeñas Plastic Arts Contest" (Ciudad Real)
Sculpture selected at the "78 Valdepeñas Plastic Arts Contest" (Ciudad Real)
Exhibition "Charro costumes and sculptures" organized by the cultural association "El Botón Charro de Miróbriga" in Ciudad Rodrigo (Salamanca)
Collective exhibition "Women through art" organized by the Department of Social Services of the City Council of Valdepeñas
Sculpture selected at the "XXIX Biennial of Sculpture Jacinto Higueras" of Santisteban del Puerto (Jaén)
Work selected for the "XXVI Biennial of Sculpture Jacinto Higueras" of Santisteban del Puerto (Jaén)
Sculpture selected at the "XXV Biennial of Sculpture Jacinto Higueras" of Santisteban del Puerto (Jaén)
Sculpture selected at the "XII International Sculpture Prize Ángel Orensanz, City of Sabiñanigo" Huesca
Sculpture selected for the "XIII Rosa del Azafrán Plastic Arts Contest" in Membrilla (Ciudad Real)
Sculpture selected at the "XXIV Biennial of Sculpture Jacinto Higueras" of Santisteban del Puerto (Jaén)
Exhibition and demonstration of carving on "Tuesday Mayor" in Ciudad Rodrigo (Salamanca)
Exhibition and carving demonstration in a medieval market in Valdepeñas (Ciudad Real)
Exhibition and demonstration of carving on "Tuesday Mayor" in Ciudad Rodrigo (Salamanca)
Sculpture Contest of the City Council of La Roda (Albacete)
Exhibition and demonstration of carving on "Tuesday Mayor" in Ciudad Rodrigo (Salamanca)
Collective exhibition "Crearte 2004" in Alba de Tormes (Salamanca) (edited catalog)
Exhibition and demonstration of carving on "Tuesday Mayor" in Ciudad Rodrigo (Salamanca)
Collective exhibition of young artists in "El Porvenir" in Ciudad Rodrigo (Salamanca)
Individual exhibition "Cultural Week of the I.E.S. Tierra de Ciudad Rodrigo" (Salamanca)
Collective exhibition of young artists in "El Porvenir" in Ciudad Rodrigo (Salamanca)
Collective exhibition "Crearte 1996" in Alba de Tormes (Salamanca) (edited catalog)
Collective exhibition "Cultural Week of the I.B. Fray Diego Tadeo" in Ciudad Rodrigo (Salamanca)
Collective exhibition "Ciudad Rodrigo Carriage Museum" (Salamanca
WORK IN THE POWER OF COMPANIES AND INSTITUTIONS
Town Hall of Llanos del Caudillo (Ciudad Real)
Town Hall of Valdepeñas (Ciudad Real)
"Serenity"
Monument to Blood Donors
Monument to the Victims of Terrorism
PSOE Valdepeñas
Board of Communities of Castilla La Mancha
Wineries Marques de Cáceres, La Rioja
Wineries Copaboca of Tordesillas, Valladolid
Hotel Wellington
Foundation Wellington
Hotels RIU
Fanfarra Sao Bernardo, Aveiro (Portugal)
Restaurant La Paloma, Ciudad Rodrigo (Salamanca)
Trophy for the "Quality Awards", of the Denomination of Origin Valdepeñas
Trophy for recognition of the Valdepeñas Olive Cooperative (COLIVAL)
Trophy for the Communication Awards 2017 and 2018, from Cadena SER Ciudad Real
Special trophy for the 2016 Communication Awards, on its 25th anniversary of Cadena SER Ciudad Real
Trophies for the "Vino Tinto" and "Vino Blanco" awards at the Gala del Diario Lanza de Ciudad Real since 2015
Trophy for the 2007 Televaldepeñas Awards (Valdepeñas, Ciudad Real)
Trophies for the awards of the association "Young Friends of Wine" 2005 (Valdepeñas)